Zip Line Rentals
We are involved in many different event formats and have found a proven and successful way to
provide this great attraction without a high cost.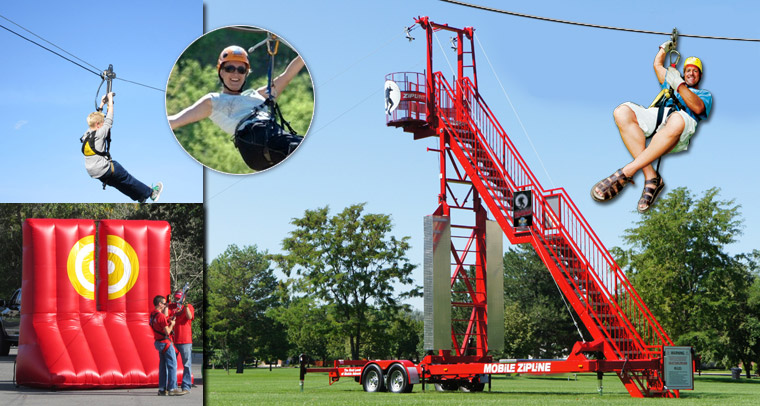 The portable zip line is easily rider accessible up the 30" wide staircase. At the top of the stairs the riders enter the Launch Barrel until they are safely connected to the zip line. When the operator opens the rotating safety gate the rider is then able to take the leap. The ride slows only the last portion of the ride. Before coming to a smooth stop at the end of the ride.

The Portable Mobile Zip Line Sets up in around 45 minutes.

About our mobile zip line rentals: We have the highest quality portable zip line on the market which features two lines for increased output. Professional attendants are always includes with our zip line rentals pricing which guarantees a safe and thorough operation. Participants climb up to the top of the mobile zip line tower where they are strapped into a professional harness and then hooked up onto one of the zip line lines. When ready, they leap and soar through the air until reaching the slow stop. Everyone is fascinated by this new attraction and will remember your event mobile zip line for rent you provided. We do Zip Line Rentals in, Philadelphia, New Jersey, Delaware, Maryland, and District of Columbia. Rent a mobile zip line for your next special event, Schools, Church Functions, Corporate Events, Company Picnics, Colleges/Universities, Township Fairs and Festivals. our Mobile Portable event Zip line rentals will Wow your people. This Zip line will rock your event. Ever wanted to go zip lining but don't know where the nearest mobile zip line is? Zip line rentals are an action-packed adventure. We bring the portable zip line to you! The mobile zip line for rent stands 28 feet tall and is 180 feet long! The mobile zip line is an adrenaline-packed experience for you and your guests. The Zip Line for rent is mounted on a trailer pulled by our truck and erected with self-contained hydraulics. We need a flat area of about 200 ft. x 20 ft. and 28 ft. vertical clearance, clear of wires or overhanging trees.
| | |
| --- | --- |